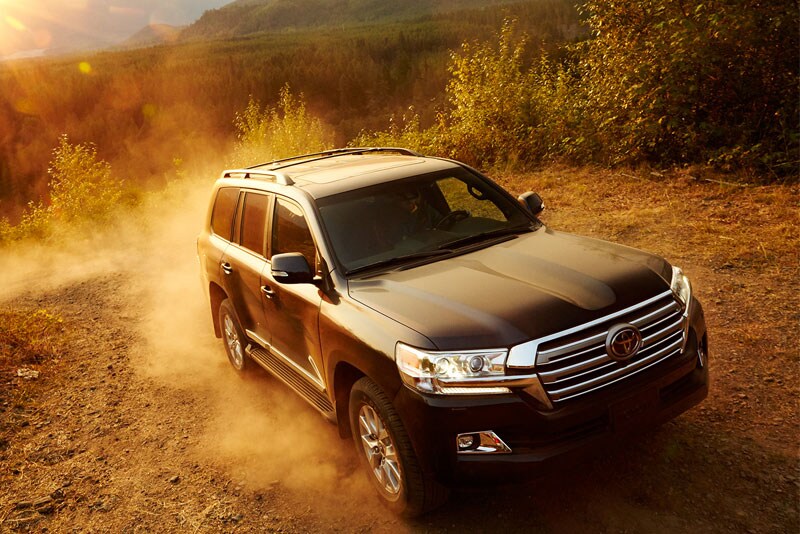 Automotive technology has evolved so much in recent years that it can be easy to forget just how far we've come. Comparing Toyota's classic early models to today's offerings is like comparing apples to oranges, but it's still fun to see what these old school cars and trucks offered compared to Toyota's latest lineups.
From Humble Beginnings
Since its founding, Toyota has been committed to contributing to a more prosperous society by offering reliable automobiles to the masses. That original vision still holds true today, although a lot has changed in terms of company size and the overall manufacturing process. Toyota's first model ever produced was a Toyota Model AA, which rolled out in 1936. This fully enclosed four-door sedan featured a metal body, which was modern construction at the time. That decision set the tone for other manufacturers looking to use the best and safest production processes on all future vehicles.
Toyota was established in the United States in 1957. The following year, sales began with a modest offering of sedans and one classic Land Cruiser. The popular SUV remains in the Toyota lineup to this day, serving as the brand's luxury sport utility vehicle. In the 1950s, however, the SUV was more basic and closely resembled a military-style off-roader. The classic Land Cruiser featured metal doors and a metal top with roll-down windows. Surprisingly, air conditioning came as an option, which was nearly unheard of at the time. Over the next few years, Toyota added solid axles, a fold-down windshield, wrap-around rear windows, a three-speed transmission, and increased horsepower.
Today, the Land Cruiser is a timeless icon updated with LED lighting, heated and ventilated seats, four-zone automatic climate control, rear-seat entertainment, high-tech off-road technology, and improved cargo flexibility, making it nearly unrecognizable from its humble predecessor.
Comparing the Bestselling Midsize Pickup Truck
The Toyota Tacoma has been the country's bestselling midsize pickup for years, but back in 1995 when the model was first released, Toyota was taking a bit of a gamble. Unlike other global markets, Americans liked to use pickups as daily drivers, not just work vehicles, which is why the Tacoma concept was born. While you may think a lot has changed about this beloved pickup over the years, you may be surprised to learn that it's basically stayed close to the original 1995 concept, which shows just how solid Toyota is when it comes to engineering a winner.
Both the base 1995 4x4 Xtra Cab Tacoma and the 2016 SR 4x4 Access Cab model feature a five-speed manual transmission and four-cylinder engine. Fuel economy has improved with the modern model, but only slightly, as the 2016 Tacoma beats out the 1995 model by just three miles per gallon in the city. The most notable difference is the pickup's size, which has grown with each successive generation. The 1995 version was considered a compact pickup, while the modern incarnation is definitely a midsize. The newer truck is wider and longer with a longer wheelbase, so it offers more shoulder, leg, and headroom than ever.
Being that these trucks have generally remained the same, save for some modern technological additions, classic pickup enthusiasts would do well to opt for a used 1995 model, just for the sake of owning one of the company's most celebrated trucks.
Toyota Steps Up its Luxury Offerings
Early on, Toyota struggled with its luxury offerings. During the 1970s, it had trouble selling its Crown and Cressida models on the American market. As the entire luxury market took a downward slope in the '80s, Toyota established Lexus, which was a brand new vehicle division geared toward engineering luxury vehicles. This allowed the brand to focus on offering reliable, affordable vehicles to American families, which is a tradition it's upheld to this day.
Today, Lexus is synonymous with luxury, offering a variety of sedans, coupes, SUVs, hybrids, and performance vehicles that are shattering expectations. When compared to a late '70s Cressida with its standard power steering, AM/FM multiplex radio, air conditioning, and power brakes, even the entry-level luxury IS sedan blows all predecessors out of the water. Old school Toyotas never could have imagined a pre-collision system, high-intensity discharge headlights, a rear cross-traffic alert, blind spot monitoring, and other safety features that are inherent in modern Toyota and Lexus models.
While a lot has changed over the years, some things remain the same. Toyota remains committed to customers by engineering some of the world's best models. Whether you're in the market for a used or new Toyota, you won't be disappointed.