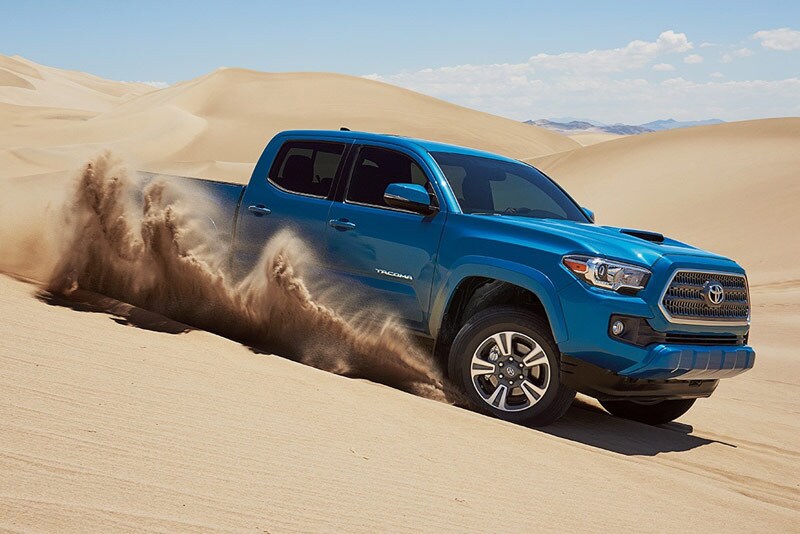 Award Winning 2016 Toyota Tacoma
Just before Halloween a respected group of automotive journalists took time out of their busy schedules to attend a meeting held at the Knibbe Ranch in Spring Branch, Texas. Their intent was to enjoy test driving more than 80 different new vehicles in what is known as the annual Texas Auto Writers Association's Truck Rodeo.
This event offered the journalists the opportunity to test drive a full range of trucks, SUVs, and CUVs from the top manufacturers in the world. During the 48 hours, they could be compared and rated for both off and on road driving. By the end of this weekend, it was clear that the 2016 Toyota TRD Off-Road, TRD Sport, and Limited were clearly the winners of the Mid-Size Pickup Truck of Texas award.
The Toyota Press Release
According to Mike Sweers, Chief Engineer Toyota Tacoma, " As America's best-selling mid-size pickup for ten years running, the recognition as Mid-size Pickup Truck of Texas confirms our efforts to produce a great truck that will carry Tacoma's legacy as the toughest, most durable truck in the segment. Toyota's commitment to the new Tacoma was focused on meeting the needs of adventure-seekers on a variety of tamed and untamed surfaces."
The judges were impressed by a number of the new features to be found on the 2016 Toyota Tundra, among these are a GoPro camera that lets drivers record their off-road journeys along with a wealth of the latest technology. They may also have been impressed by the major improvements and upgrades to the interior design.
Perhaps it Was the Power
Most believe that it was the major upgrades to the powertrain that totally impressed the judges during the weekend event. The 2016 Tacoma now sports an all-new 3.5 liter V6 under the hood that offers 42 more horsepower than last year's model and now puts out a total of 278 hp. This new engine makes use of port and direct fuel injection, making it the first Toyota in the U.S. market to come equipped with this highly advanced system. The way this system works is to make use of the port injection system at lower speeds and then as you increase the engine rpms, the direct-injection system kicks in to provide optimum power.
Along with this the Tacoma now offers a selectable-terrain system for maximum traction control and built in hill-assist to give you an additional boost when needed. In the TRD Off-Road model you also get a limited slip electronically locking rear differential, along with a set of custom 16 inch alloy rims. These rims are covered by a set of stout hearted Goodyear Wrangler® Kevlar® reinforced tires that will keep you going in all driving conditions.
On top of all this the Off-Road gets Toyota's new Crawl Control System that takes control of both acceleration and braking when you are driving over rough terrain. Those who order the TRD Sport will find a custom sport tuned suspension, a set of custom 17 inch alloy rims, and a stylish new hood scoop.
New Good Looks
There is more to the 2016 Tacoma than significantly upgraded performance, there have also been a number of changes in appearance. The new body features a brawny exterior with sharp corners and a somewhat classic Toyota truck look. The body and frame are constructed from a much stronger new steel that offers far more rigidity than ever, yet also helps to significantly reduce overall weight.
No matter which model of the 2016 Toyota Tacoma you choose, you will find them all at Toyota of Denton. Come on in for a test drive today, we are conveniently located at 4100 South I-35 E Frontage Rd, Denton, TX 76210 or call 940-293-4548 to schedule your appointment today.